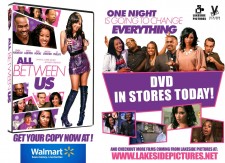 Lakeside Pictures and Samera Entertainment, in partnership with Vision Films are proud to present the release of this new comedy about the pitfalls of relationships.
LOS ANGELES, June 13, 2018 (Newswire.com) - Tiffany Haddish made her mark with a breakout role in last summer's "Girls Trip". Now she is back in action with ALL BETWEEN US, a film that explores the hidden layers of relationships among friends, family, and lovers. Now available on DVD and VOD.
Directed by Jamie Jones and written by Ev Duran, ALL BETWEEN US also stars Brian Hooks ("3 Strikes", "Phat Beach") as Ray, who is newly engaged to Clara (Denyce Lawton, "House of Payne"). Ray and Clara plan a dinner party to announce to their friends and family that they have a baby on the way. Unfortunately, the night turns into a complete disaster after secrets are exposed and old wounds are ripped open.
Tiffany Haddish plays Meshawn, Clara's best friend, and Ray's secret lover. She brings the sass and keeps it real as the night gets further out of control. Haddish's character offers a wild card balance to the intense emotions fueling the increasingly volatile dynamic among the rest of the cast, an essential element to keep the comedy and the drama well timed and on point.
ALL BETWEEN US is produced by Darien Smith, Marvin Adams, Sharry Flaherty, and Bay Area hip hop legend, Mike Mosley, and is being distributed by Vision Films.
This romantic comedy of errors also stars: Jay Phillips ("Semi-Pro"), Christian Levatino ("The Last Godfather"), Tabitha Brown ("I'm Still Here"), and Esau McGraw (Idlewild").
ALL BETWEEN US is available on digital at Google Play, Xbox, PlayStation, Fandango Now, and Vudu. You can buy the DVD at Walmart, Best Buy, or Amazon. And it is available on demand at Comcast, Cox, Dish TV, Suddenlink, and many more cable providers. The soundtrack featuring: A.D. On the Track, Trina B, and multi-platinum R&B artist Donell Jones is also available on iTunes, and other digital music outlets.
Don't miss your chance to catch this thought-provoking comedy and watch the drama unfold firsthand.
Written by Nick Murphy
Source: Samera Entertainment
Share: