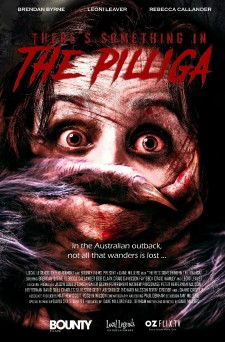 Director Dane Millerd talks to Samera Entertainment about Pilliga release
LOS ANGELES, September 5, 2018 (Newswire.com) - If anyone hasn't marked down the name Dane Millerd on their watch-lists for up-and-coming filmmakers, it might be time to do it now. Millerd, writer/producer and director of the acclaimed Australian found footage horror film "There's Something In The Pilliga," will soon release his film via Bounty Films on Google Play, iTunes, Vudu and Amazon in Australia, New Zealand, United Kingdom and North America from July, as well as up to 70 other countries - and the buzz surrounding the project is palpable.
"Bounty Films has stepped in and taken our little film under their wing and are rightfully doing the movie the justice it deserves," said Millerd. "After a long process getting it made and a struggle to get a suitable distributor, we have finally reached a point where we can showcase this film to a wider audience. It has been a long time coming but now we can show off our niche genre piece to horror and monster fans across most of the world."
The B-grade found footage horror comedy film centers around two men and two girls who meet at the local pub on New Year's Eve in outback Australia before they all venture into the Pilliga Forest to see an old hermit when chaos ensues.
"In Australia, we call Bigfoot a Yowie and the Pilliga Yowie is as infamous here as the New Jersey Devil, Moth-man or Ozark Howler that reside in the U.S.," Millerd explained. "Unlike the U.S. though, about 85 percent of Australians live on 15 percent of the land so there is a lot of the country that hasn't been seen by foreigners. So the legends such as Pilliga Yowie live on unabated."
Starring Brendan Byrne (Wyrmwood) and Rebecca Callander (from the band Rackett), the movie was filmed between 2011-2014 on a shoe-string budget in the Pilliga State Forest to ensure authenticity – a place where not all that wanders is lost.
"The film is now on OzFlix (Australia films only) at https://www.ozflix.tv/#!/pos and Amazon-Prime Australia," said Dane.
"It may not be everyone's cup of tea but it will certainly be some people's shot of whiskey!"
http://www.twitter.com/thepilligamovie
http://www.theressomethinginthepilliga.com
MEDIA ENQUIRIES:
Sharry Flaherty (https://www.sameraentertainment.com)
or Dane Millerd: Dane.Millerd@hotmail.com
Source: Samera Entertainment
Share: