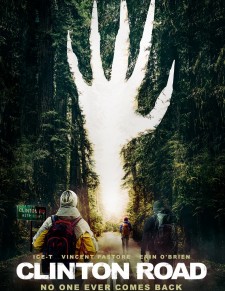 Samera Entertainment invites everyone for a sneak peek of Acort International's haunting new film from directors Steve Stanulis and Richard Grieco.
LOS ANGELES, June 27, 2019 (Newswire.com) - ​​​​​Urban legends have been a staple of horror since the emergence of storytelling. One such legend centers around an ominous 10-mile stretch of narrow road deep within the northern New Jersey woods. It is on this path that CLINTON ROAD lays its tale of terror. Join Samera Entertainment for a quick inside look at this stunning horror drama which is now playing on limited screens and via streaming.
The movie is filled with a who's who of iconic character actors including Ice-T (Law and Order SVU), Vincent Pastore (The Sopranos), Ace Young (Planet 360), Eric Roberts (The Dark Knight), James DeBello (Cabin Fever) and Bo Dietl (The Wolf of Wall Street). Together, this ensemble performs a tale of horror with multiple characters that all converge on the titular CLINTON ROAD, a source of countless legends throughout history either involving the supernatural and witch gatherings and even as the setting for alleged mafia hits.
This notorious back-story served as the driving force behind the script by Derek Ross Mackay, based on a story by Steve Stanulis, centering on a firefighter who seeks closure after his wife goes missing on the titular road in rural New Jersey and must unlock the road's secret if he wants to get out alive.
Steve Stanulis produced and co-directed the film alongside actor Richard Grieco, star of the original 21 Jump Street series and cult classics such as If Looks Could Kill and Night at the Roxbury.
Authenticity was paramount on the CLINTON ROAD set. The film was shot on location to preserve a genuine feeling of terror, and there was no shortage of eerie happenings behind the scenes. Electric generators would randomly go dead then restart as if nothing had happened. Phones would lose signal without warning. And with a tight budget and even tighter schedule, these obstacles provided a race against time that required craftiness and sharp focus to wrap the finished film.
In the end, it was a success. Production wrapped and CLINTON ROAD went on to tour the festival circuit during the latter half of 2018 and early 2019. It wound up winning Best Horror Feature at both the 2019 Garden State Film Festival and the 2019 Philadelphia Independent Film Festival.
The film is distributed through Acort International and had a limited release in select theaters on June 14, 2019, and is currently available for rent on numerous streaming platforms including Amazon, Fandango Now and YouTube Premium.
So, for anyone looking for unadulterated nightmare fuel this summer, be sure to take a trip down CLINTON ROAD.
About Samera Entertainment:
Sharry Flaherty, CEO and founder of Samera Entertainment, is a film producer and acquisitions executive for several film distribution companies both for domestic and foreign sales. Always finding the right distribution partnership for indie filmmakers, Samera Entertainment consults with filmmakers on their projects that are either in development, pre-production or post-production.
About Acort International:​
Acort International is one of the top worldwide distributors of independent films in the global marketplace. Acort International is a division of Maxim Media Marketing Inc. (M3). They specialize in the horror/thriller/action/fantasy genres and are specialists in new media and digital platforms. They exhibit at most major film markets and have sold hundreds of successful films in all world territories big and small.
Source: Samera Entertainment
Share: