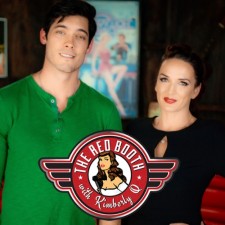 Samera Entertainment and Druid Pictures present ASURA star Matthew Knowles on THE RED BOOTH with pinup style hostess Kimberly Q!
LOS ANGELES, October 25, 2018 (Newswire.com) - International actor and model, Matthew Knowles sits with Kimberly Q to discuss his experience starring in the Chinese epic ASURA, the biggest film in China's history with a budget exceeding 100 million dollars. They cover this and much more on THE RED BOOTH this weekend.
The globe-trotting life of Matthew Knowles began in Greenville, South Carolina as a talented football player whose promising athletic career was ended by injury. Finished with college, Matthew wanted to help others and went to do charity work with less fortunate kids. He relocated to China's Guizhou Province where he began an unexpected modeling career. His fluent handle on Mandarin jump-started his path as an actor, landing him roles on Chinese television series such as: LOVE ME IF YOU DARE, RED STAR OVER CHINA, and BOND OF JUSTICE: KIZUNA.
Knowles stars as Rawa, a rebellious demigod in the massive Chinese production of ASURA, a fantasy epic based on Buddhist mythology, and the first of a trilogy.
Don't miss a single second of Matthew Knowles's interview with Kimberly Q on THE RED BOOTH this Saturday, Oct. 27 at 9 p.m. PST / 12 EST on YouToo America, the national cable network broadcast to 45 million households a week.
About THE RED BOOTH:
THE RED BOOTH is a nationally broadcast talk show that airs every Saturday night on Youtoo America via Charter, Time Warner Cable, Comcast and more. The show can also be streamed via Apple TV, Roku, Amazon Prime, and YouTube. Created and produced by pinup style host Kimberly Quigley. She interviews entertainment industry professionals such as actors, directors, singers, musicians and more. With nearly 200 episodes to its credit and a fun Vintage Americana flair, it's a peek into the stories of many well-known and up and coming talents in Film, TV, Music and more.
Written by Nick Murphy / Samera Entertainment
Source: Samera Entertainment
Share: