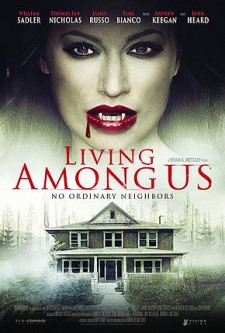 Samira Entertainment talks with director Brian A. Metcalf about his horror film 'Living Among Us'
LOS ANGELES, March 30, 2018 (Newswire.com) - Vampires are back in vogue in a big way through Brian A. Metcalf's outstanding new film "Living Among Us."
The movie was written and directed by Brian A. Metcalf and features incredibly talented actors such as the late John Heard, Thomas Ian Nicholas, Andrew Keegan and Esmé Bianco. Metcalf has done a great job on the new American new wave horror film which can easily be seen by the amazing and perfect collaboration of acting skills, cinematography and attention to detail.
"Living Among Us" is the story of the vampires that have been living with humans for many years. A few documentarians finalize a deal with the vampires to conduct a study on them and understand how they have been surviving. However, they soon realize they are in for more than just a documentary. Acquisitions Executive Sharry Flaherty of Samera Entertainment has acquired the film for Vision Films which has bought U.S. theatrical distribution, VOD and DVD rights to the supernatural horror movie.
"Living Among Us" aside, Metcalf has several other projects that he is working on - "A neo-noir crime drama. In addition, I have a project called 'Strange Ones' that I am working on finishing up as well. I'll continue to try and keep honing my skills as a director, producer, writer and actor."
The future is certainly bright for Brian A. Metcalf and we no doubt have a future star living among us!
Click on links below to read exclusive Samera Entertainment interviews with director Brian A. Metcalf and actor Thomas Ian Nicholas.
Brian A Metcalf article: https://www.sameraentertainment.com/brianmetcalf
Thomas Ian Nicholas Q&A: https://www.sameraentertainment.com/thomasiannicholas
Source: Samera Entertainment
Share: