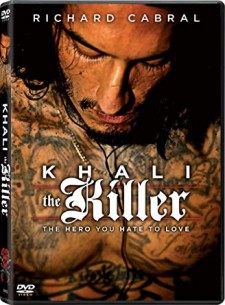 Director Jon Matthews talks movies with Samera Entertainment
LOS ANGELES, May 30, 2019 (Newswire.com) - ​​​​​​​When Khali the Killer came out in 2017, the film left an incredible impression on many, due largely to its uncompromising honesty and raw portrayal of life on the tough streets of Los Angeles. Helmed by Jon Matthews, distributed by Sony and starring indie favorite and Emmy nominated actor Richard Cabral, Khali the Killer was soon released and has enjoyed strong support and success since. Now the indie film of 2017 is available on Amazon and iTunes.
Yet for Matthews, success hasn't come overnight for the civil rights lawyer turned filmmaker. "I've worked on a number of sets in a number of roles," said Matthews. "I wanted to learn as much as I could about film-making and immersed myself in as many aspects as I could. It allowed me to understand how it all works and gave me the confidence to start writing, directing and producing my own films like Khali the Killer," he said.
The editor comes sound guy comes writer/director eventually went onto to make a documentary called Surviving Cliffside after receiving a grant from Spike Lee to finish it in 2014 before going on to make the acclaimed Black Dog, Red Dog starring James Franco, Olivia Wilde, and Whoopi Goldberg. Something he still pinches himself about.
"Growing up in rural West Virginia I didn't think I would be here doing this - making films with amazing people," he said. "I had always believed I would be a champion for civil rights (which I still am) but there is something in the magic of telling stories through film that inspires me. Film to me is the ultimate art as it combines all art - music, photography, writing ... everything," he said. "It's a genuine thrill being able to tell my stories to the world and share my art through film," Jon said.
Khali the Killer explores the life of a recently retired East L.A. hitman who decides to take one last job to help support his ailing grandmother's end of life care. Soon things fall apart when he develops empathy for the targets of his hit, forcing him to make one of the toughest decisions of his life.
Khali the Killer stars Richard Cabral, Ryan Dorsey, and Clayton Cardenas and is now available on Amazon Prime, iTunes, and other reputable online streaming services.
https://www.imdb.com/title/tt4498760/?ref_=nm_flmg_dr_4​​
For press and follow-up interviews and/or inquiries about Khali the Killer, contact Sharry Flaherty at SameraEntertainment@gmail.com.
Source: Samera Entertainment
Share: