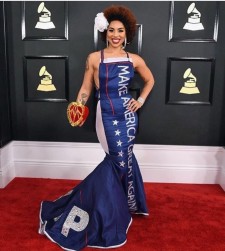 Samera Entertainment and Druid Pictures announces singer / songwriter Joy Villa will take a seat in The Red Booth
LOS ANGELES, April 20, 2018 (Newswire.com) - On April 21, singer Joy Villa makes her way to THE RED BOOTH with host Kimberly Q. THE RED BOOTH is a nationally broadcast talk show that airs every Saturday night on Youtoo America, and can also be streamed on Apple TV, Roku, Amazon Prime, and YouTube.
Joy Villa is a successful singer having already been up for Grammy consideration in her music career. She now sets her sights beyond the music scene, and onto our heated political landscape. Her outspoken fashion statements on the red carpet have sparked numerous discussions and debates. Her now infamous Trump Dress from the 2017 Grammy Awards has taken Joy all the way to the top of the charts, and even to the White House. She has since taken on more controversial topics with her latest 2018 Grammy dress, which took a pro-life stance.
Joy Villa talks with hostess Kimberly Q about her music hitting number one iTunes, and her foray into politics. Joy has been featured on CNN, Fox & Friends, Good Morning America, The Today Show, Cosmopolitan, MTV and many more media outlets. Joy refers to herself as a "cultural disruptor" who talks about the issues that most people are afraid to touch. This interview focuses on being able to discuss opposing views, so people with different beliefs can be more open and understood through friendly conversation and respect. Joy has a chance to explain why she supports what she supports, and will also discuss her new EP "Home Sweet Home".
Watch Joy Villa's interview on THE RED BOOTH this Saturday night, April 21 at 9 p.m. PST /12 EST on Youtoo America, the national cable network broadcast to 45 million households a week.
About THE RED BOOTH:
THE RED BOOTH is created and produced by Pinup style host Kimberly Quigley. She interviews entertainment industry professionals such as actors, directors, singers, musicians and more. Its tag-line, Diner Booth Diaries can be found across social media and with nearly 200 episodes. With its Vintage Americana-style flair, it's a fun look into the history of many well-known stars of today and tomorrow.
Source: Samera Entertainment
Share: