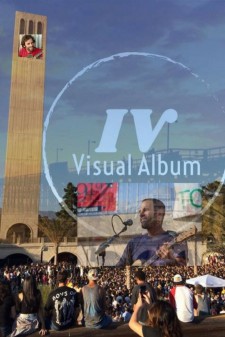 Samera Entertainment and Scott Carper (SCMN Consulting) announce the groundbreaking release of ISLA VISTA: A VISUAL ALBUM
LOS ANGELES, April 30, 2018 (Newswire.com) - With the help of notable alumni and multi-platinum recording artist, Jack Johnson, a group of University of California students have produced and released a visual album about their beloved community. Led by director Connor Haines, the team independently raised the funds relying mainly on alumni donations for the project that stemmed from a community plagued by storms, fires, and mudslides over the last few years.
Connor Haines: "Our little town has been through a lot the last few years, and to be able to do a project like this, is something we feel real passionate about. It was a dream come true to have Jack gift us with his music and to have our other alumni get active in funding the visual album."
Every college has their sacred alumni, but for the University of California – Santa Barbara, the most common answer is Mr. Jack Johnson. Johnson has spoken highly of the unique UCSB experience. He met his wife in between classes by locking their bikes together to make a connection. After that, they both made a deep connection with the school, the Alumni, and the town.
So in collaboration with musician Jack Johnson, ISLA VISTA: A VISUAL ALBUM is now available. In response to this auspicious release, Connor Haines said:
"I just wanted to take this moment to thank all of the cast and crew that helped make this project happen, my brother from another mother and co-director Aurelio Lopez, my incredible producer Danielle Erwin, our insanely talented cinematographer, Nik Shaw, Hugo Eddie Smith our beast of an editor, our last minute angel investor and awesome executive producer Scott Carper, and also the amazing Leslie Solomon Klonoff, Alumni producer, and crowd-funding guru Greg Frank, Gabriel Santos and Nathan Doherty from Respect The Funk, and most Importantly want to thank my parents Mack and Trish Haines who have made everything in my life possible. Thank you all for making this film and dream a reality."
To see ISLA VISTA: A VISUAL ALBUM in action click below:
Source: Samera Entertainment
Share: