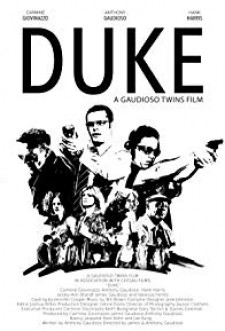 Samera Entertainment gives you a quick behind the scenes look at this thrilling neo-noir from Gravitas Ventures.
LOS ANGELES, March 10, 2020 (Newswire.com) - James and Anthony Gaudioso are identical twins with near-identical dreams. A recent example of their dreams coming to fruition can be found in DUKE, a character-driven psychodrama inspired by classic westerns, with a contemporary spin.
DUKE stars Carmine Giovinazzo and Hank Harris as Dare and Roost, two brothers who faced unspeakable trauma during their upbringing in a reformatory they call "The Home." The lasting psychological effects of their mutual experiences follow them into adulthood where they have made a habit of dressing in cop uniforms and posing as the real deal on the street. Roost soon grows tired of the charade and retreats into watching classic John Wayne movies. Meanwhile, Dare turns up the heat and goes into full "Dirty Harry" mode, butting heads in the back alleys with hoodlums and prostitutes, and engages in an obsessive pursuit of a real, but elusive cop killer known only as "Winky" (Maurice Benard).
James and Anthony Gaudioso co-wrote and co-directed DUKE, and also play significant supporting roles. Anthony plays Detective Morrison, a real cop with a hard edge that crosses paths with the fabricated, yet authentic edge of Dare as they both hunt the same killer. And James is a particular standout as Joan aka "J-Bird," a trans streetwalker who finds herself flirting with disaster as Winky's crime spree intensifies. James found the role not only the most challenging thus far in his career but also the most rewarding.
Vanessa Ferlito (Death Proof, Shadowboxer), Richard Cabral (Khali The Killer, Mayans MC), Richard Portnow (GoodFellas, The Sopranos) and Richard Roundtree (Shaft, Se7en) also star in this pulse-pounding thriller distributed by Gravitas Ventures.
DUKE is available to stream on Amazon Prime and also free to stream (with ads) on Tubi. So do yourself a favor and check out this intense indie treasure today!
ABOUT GRAVITAS VENTURES​
Gravitas Ventures, a Red Arrow Studios company, is a leading all rights distributor of independent feature films and documentaries. Founded in 2006, Gravitas connects independent filmmakers and producers with distribution opportunities across the globe. Working with talented directors and producers, Gravitas Ventures has distributed thousands of films into over a hundred million homes in North America – over one billion homes worldwide. Recent releases include Armstrong, directed by David Fairhead; Above the Shadows starring Olivia Thirlby, Megan Fox, and Jim Gaffigan; The River and the Wall, directed by Ben Masters; Score: A Film Music Documentary; California Typewriter; Legion of Brothers; Katie Holmes' feature directorial debut; All We Had, Colin Hanks' All Things Must Pass; and Being Evel from Academy Award-winning director Daniel Junge and producer Johnny Knoxville.
For more information, please visit gravitasventures.com, and follow @GravitasVOD on Twitter and @gravitasventures on Instagram.
Source: Samera Entertainment
Share: