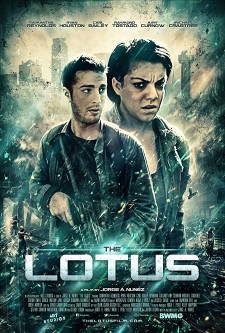 Samera Entertainment and Black Wolf Media Group is proud to announce the release of "THE LOTUS"!
LOS ANGELES, May 8, 2018 (Newswire.com) - Now On Demand! "The Lotus" brings the dangers of biochemical technology center stage, as a man-made virus ravages the world, leaving few survivors in its wake. Writer and director, Jorge Nunez infuses his film with flourishes of tech-savvy sci-fi mixed with bursts of blood splattering horror – more than enough to please any fan of the genre.
Acquired by Sharry Flaherty of Samera Entertainment, and distributed by Black Wolf Media Group, "The Lotus" is a fresh addition to the rich cinematic legacy of "end of the world" sagas. The film begins on the brink of anarchy, on a seemingly peaceful day, where our main character, Cee (Samantha Reynolds), attends her little sister's wedding, all the while facing the imminent end of her own marriage due to her infertility. This threat to her personal life is undercut by a biological threat to the world after a virus breaks out at the wedding, leaving Cee the lone survivor. After a while, she runs into a handful of other survivors who have banded together to take down the infected by any means necessary.
When asked what inspired the epic and apocalyptic backdrop of "The Lotus", and its main character's journey, Nunez remarked that he was always drawn to films that feature strong female leads. Characters like Ellen Ripley in "Aliens", or Sarah Connor in "Terminator 2", or Clarice Starling in "Silence of the Lambs".
The Lotus is available on Amazon, iTunes, Vudu, Google Play, Xbox Live, Dish Network, Comcast and various VOD platform.
Written by Nick Murphy/ Samera Entertainment
Click link to read: Death Goes Viral in The Lotus, a Post Apocalyptic Thrill Ride from the Mind of Jorge Nunez
Source: Samera Entertainment
Share: