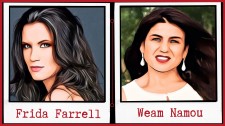 Samera Entertainment invites you to go in-depth with two trailblazing female filmmakers on the independent scene.
LOS ANGELES, June 24, 2020 (Newswire.com) - Chloe's Chronicles is an ongoing series of articles that provide both insight and enlightened perspectives on the world of film-making. Today we offer our readers two such articles that open windows into the wealth of possibilities visual storytelling holds. Join Chloe Brown as she interviews filmmakers and activists Weam Namou and Frida Farrell.
Find out how world-renowned author, journalist, and healer Weam Namou got her new documentary, The Great American Family, off the ground and what the future holds next for her. Chloe and Weam talk about dispelling stereotypes surrounding Middle Eastern women and how it's led Weam all around the world as an investigative journalist detailing the Iraqi American experience. They also discuss the communicating power of storytelling through any medium, and Weam's profound philosophy as a healer, and how this philosophy has helped her ancestors survive over the centuries. Weam Namou conscientiously applies her wisdom to the stories she tells and hopes that it will be an inspiration for others.
Weam's new documentary The Great American Family is a visual representation of her 2016 nonfiction book of the same name. It tells the story of Dawn, an American woman, and what her family goes through when Dawn is accused of colluding with Iraq regarding selling telecom equipment during sanctions and embargo dealings. The book is available wherever books are sold, and the documentary is making the rounds in the festival circuit and is going wide later this year.
To read Chloe Brown's Q&A with Weam Namou, click here.
THE GREAT AMERICAN FAMILY TRAILER
Also featured is Chloe's comprehensive interview with Frida Farrell. Frida is an accomplished and fearless actress, singer, writer, and activist who stopped by to discuss her film Apartment 407, which she both co-wrote and starred in as Isobel, a model who is lured to a shady photographer's apartment where she is kidnapped and sold into sex slavery. It's a dramatized version of Frida's own painful experience as a victim of human trafficking. Frida discusses what it was like to relive that horrific nightmare and details her desire for the film to give the voiceless a voice and inspire other victims to come forward and tell their stories.
Frida Farrell also talks about the business side of things in both creating Apartment 407 and finding the right director to bring the vision to the screen. Through this exploration, Frida proves that she is an unstoppable survivor who encourages others not to be defined by their trauma.
To read Chloe Brown's Q&A with Frida Farrell, click here.
Stay up to date with Samera Entertainment and check out Chloe's Chronicles for more independent film news.
Until next time, be creative and #supportindieflix
Source: Samera Entertainment
Share: